Potato Chips Production Line Manufacturer
Since 2010 year, Gungunwala Food Equipment Pvt. Ltd. independently develops its international market, and soon become the main members in international trade enterprises. Having gained years of experience in this domain, we are engaged in offering our valued clients with huge range of Food Processing Equipment. These equipment are properly management and examined by our hired skilled and experienced experts to guarantee zero defect productivity results and to distribute high quality product at our clients end. Our offered Chips Production Lines are hugely demanded among the customers and we take the utmost responsibility for design, manufacture and installation.
In our product range we are offering diverse food processing equipment products such as Automatic Pellet Frying Line, Potato Chips Plant, Continuous Namkeen Fryer, Pellet Fryer, Batch type Fryer like Circular fryer, Rectangular fryer, Direct Heat Rectangular Fryers, Chips Flavoring Tumbler, Namkeen Mixers, Namkeen Extruders, Wooden Based Boiler (3 Pass & 2 Pass Heating System), Thermic Heat Exchanger & Wooden Based Thermic Boiler (4 Pass & 3 Pass Heating System). The product is accessible to our clients at very reasonable rates and within the specified time frame.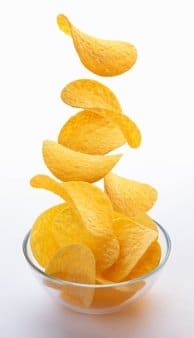 Food Processing Equipment At Best Price In India
We are leading manufacturer of Food Processing Equipment which is the transformation of raw ingredients, by physical or chemical means into food, or of food into other forms. With the help of the food processing combines raw food ingredients to produce marketable food products that can be easily prepared and served by the consumer. The food processing mainly includes activities like mincing and macerating, liquefaction, emulsification, and food preparation like boiling, peeling, frying or grilling, pickling, pasteurization and numerous types of preservation and canning or other product packaging. In the food processing equipment the other processing takes places such as slicing or cutting, freezing or drying when bring about secondary products is also included.
The food processing machine is a tool having one or more parts that uses energy to carry out an intended action. Machines are usually powered by chemical, thermal, or electric means, and are often motorized. However, the start of electronic devices has actually led to the development of power tools without moving parts that are considered machines.
The Gungunwala Food Equipment is involved in manufacturing and supplying a high quality array of Chips Making Machine in Ahmedabad, Gujarat, India. We offer you a complete choice of products which include banana chips making machines, potato chips making machines, potato chips machine, potato chip line, paratha making machine, beetroot slicer machine and millet tuber. This machine provided by us broadly used in food processing industry for making crunchy and tasty chips in different flavors. This Chips Making Machine are aesthetically designed and precision-engineered for their higher performance and durable work life.
Manufacturer of Food Processing Equipment – Namkeen Fryer Machine, Automatic Namkeen Fryer, Continuous Namkeen Fryer, Automatic Fryer, Batch Fryer system, Rectangular Fryer, Potato Chips Fryer offered by Gungunwala Food Equipment in Ahmedabad, Gujarat, India. The offered namkeen fryer machine is designed using the best quality material and hi-tech tools, in sync with international norms of the industry. This Namkeen Fryer Machine has been widely used for producing Namkeen, Bhujia, Ganthiya, Dals, Pellets, Fryums, Nylon Sev and Kurkure type of extruded snacks.
With the rich experience in the market, we manufacture and supply an extensive range of Potato Chips Machine in Ahmedabad, Gujarat, India. Our offered range of Potato Chips Machine is designed and manufactured with the use of quality approved raw material and the state of the art technology under the supervision of skilled professionals. These machines are processed under hygienic conditions using latest processing methodology under the supervision of well-trained professionals. This Potato Chips Machine is useful to make chips of Potato, Carrot, Papaya, Coconut, White Gourd, etc. Available at most affordable market prices.
We, GUNGUNWALA FOOD EQUIPMENT PVT. LTD. is one of the prominent leading Manufacturer, Supplier and Exporter of Namkeen Making Machine in Ahmedabad, Gujarat, India. We offer a wide range of Namkeen Making Machine, Namkeen Fryer Machine, Namkeen Mixer, Namkeen Extruder Machine and many more. These namkeen making machine is manufactured using top notch quality of components and innovative techniques under the strict guidance of our skilled professionals at our well equipped industry set up. This provided machine is widely used in food processing industries for preparing snacks, fries, etc. Moreover, the offered Namkeen Machine can be bought from us at minimal prices.