Buy Low Cost and Good Quality Manufacturer, Supplier and Exporter of Potato Chips Production Line in Ahmedabad
Gungunwala Food processing equipments offers the best quality of Potato Chips Production Line. We are considered to be the foremost manufacturer, supplier and exporter of Potato Chips Production line; moreover we are engaged in fulfilling the requirements of potato chips producing industry by undertaking customization works for the entire assortment of our fully automatic potato chips making machine so as to meet the set industrial standard needs of the customers.
We are employed with the team of food technologists who recognize the needs of the customers in terms of their design and other technical specifications such as capacity, material, heating option, dimensions and type of fuel. We with the support of the advanced technologies computer simulation programs and build well-organized and consistent process equipment.
Providing high quality solutions and equipment to food processing industry, we cater our equipment and services for the following processes
Potato washing and peeling machine
Potato slicing machine
Potato blanching machine
Rinsing and cooling machine
Potato dehydrating machine
Potato crisps / chips frying machine
Potato crisps / chips de-oiling machine
Potato crisps / chips flavoring machine
Potato crisps / chips packing machine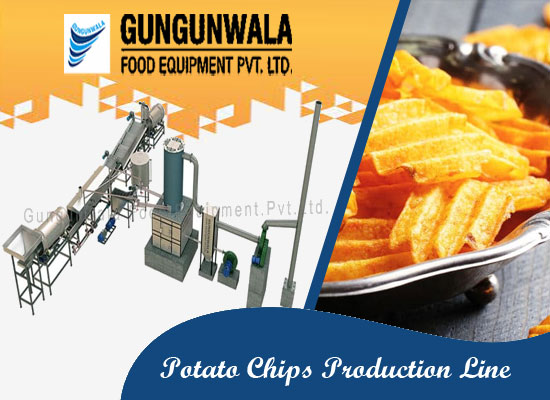 Benefits of Potato Chips Production Line
High competence: the whole production line is easy to function with high production.
Reliable performance: the potato chips and crisps have good shape with smooth surface and uniform thickness. Moreover, the thickness could be accustomed according to your necessities.
Multifunctional machine: potatoes, sweet potatoes, carrots, cassava and other root-stem vegetables could be processed as the raw materials.
Food Processing Equipment