Manufacturer, Supplier and Exporter - Potato Chips Fryer, Potato Chips Making Machine, Potato Chips Production Line at Affordable Price and 100% Quality Offer in Ahmedabad, Gujarat, India
Empowered with rich industrial experience, we are highly acclaimed name in the industrial market engaged in offering excellent range of Potato Chips Fryer / Potato Chips Making Machine. We are manufacturing the Potato Chips Fryer / Potato Chips Making Machine under the observation of our team by making use of utmost quality materials. Our machines are not only designed for frying the potato chips and French fries, it is also appropriate for frying other products like broad bean, peanuts, and puffed food, drumsticks, rice crust etc. We guarantee our clients for timely delivery of this potato chips fryer at the industry leading prices. Our offered potato chip making machine or frying machine is utilized for continuous frying of potato chips in the automatic potato chips production line. 
Further the machine works on electricity, coal and gas for heat source for frying the chips. We can adjust the frying time and frying temperature for different food products. Continuous production under constant temperature ensures consistent frying temperature and time so that the fried potato chips have consistent quality. Potato Chips Fryer / Potato Chips Making Machine​ is also used in automatic frozen french fries line and banana chips line. The commercial potato chips fryer is an absolute set of frying equipment developed by our company, which is appropriate for the uniqueness of the fried potato chips. Through the slag exclusion system, some of the slag that cannot sink into the water can be scraped out.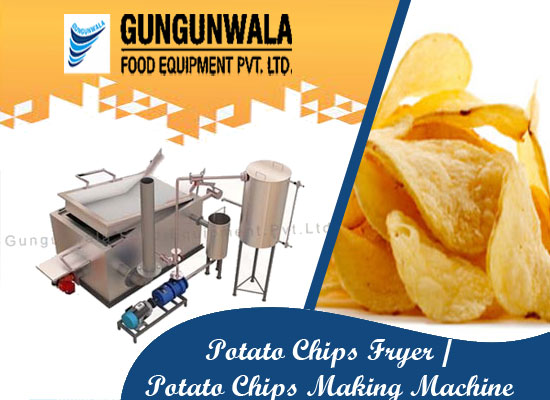 Features of Potato Chips Fryer / Potato Chips Making Machine
This machine is completed of premium quality of stainless steel, clean germ-free and sturdy
Easy to operate, easy to clean, and easy for maintenance
Automatically clean oil excess, make longer oil service life
No oil smoke, environment-friendly. The water generates a small amount of vapor constantly to reload the oil, restraining the mass volatilization of oil, reduces air pollution and avoids suffer from the smoke.
High quality fried food with nice appearance, uniform color, and tender texture.
Various foods can be fried simultaneously, with their flavor not being tainted by each other.
Food Processing Equipment