Leading Manufacturer and Supplier of Batch Type Potato / Banana Chips Line, Potato Chips Line, Batch Fryer System in Ahmedabad, Nagpur, Nashik, Thane, Pune, Vasai, Navi Mumbai, Gujarat
With a prominence on brilliance and innovation, we have been at the front position of proficient manufacturing techniques and stupendous customer satisfaction. We are equipped with complicated technology and machinery, and able to deliver performance oriented Batch Type Potato / Banana Chips Line and many more. We are manufacturing the batch type potato chips line with international quality standards and supplying a flawless range of food processing equipment to our dignified clients in India as well as globally.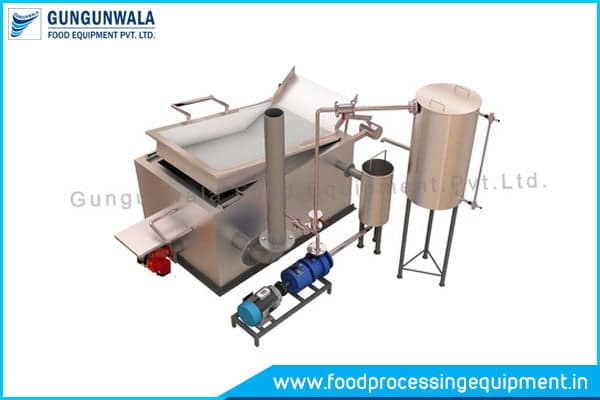 We are engaged in offering the best quality of Batch Type Potato/ Banana Chips line which consists of Potato / Banana Peeler Machine, Potato / Banana Chips Making Machine, Manual Potato / Banana Chips Making Machine, and French fry making machine, Potato / Banana Chips Dryer Machine, Circular Batch Fryer, Rectangular Batch Fryer, Flavoring Machine and other components. With an outstanding oil holding capacity, this system can easily meet the great quality of the frying potato chips. These machines are operated by diesel fuel, and available with several pan sizes and specifications.
Features of Batch Type Potato / Banana Chips Line
Latest Oil Heating Technology with inherent Heat Exchanger
Bucket Type incessant Oil Filtration System
Decreases 60% Manpower in frying
Supreme substance of Construction is SS 304 Grade
Oil Holding Capacity: – 110-140 Liters
Power Consumption 3.25HP (Diesel)
Spill Free design Reduce oil Wastage
Heat Free working Environment
More than 40 % Fuel Saving as evaluated to Traditional System